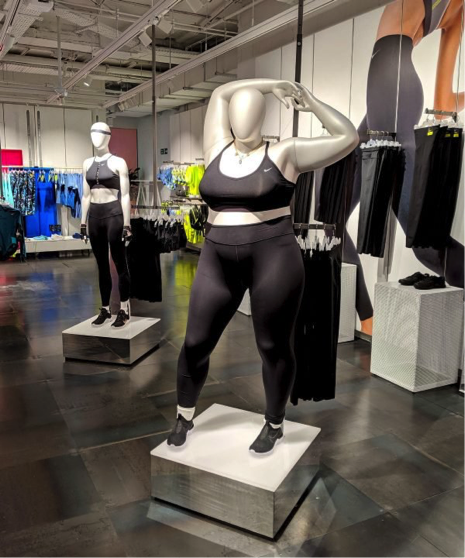 When did we become a society that shames people for exercising?
You probably saw Nike's plus size mannequin posted on social media recently, which has sparked conversation about 'promoting obesity'. One particular comment got us fired up, which suggested that individuals with larger builds should not be wearing active wear (insert multiple angry emojies). Does this mean that people over a certain weight shouldn't exercise?
There is no wonder why we see so many individuals with the same moto ... 'I'll start exercising when I lose weight'. The concept that you should avoid exercising, or wear active wear, if you are a certain weight is downright stupid (yes, we said stupid), and one way to restrict your path to achieving your goals.
Should society promote people of all sizes when it comes to physical fitness? A thousand times over, YES!
Just in case you forgot, exercise and movement has multiple health benefits such as:
Reduce risk or help manage chronic disease such as cardiovascular disease, diabetes
Improve blood pressure, cholesterol and blood sugar levels
Improve sleep
Improve energy
Improve mental health
Build strong muscles and bones
Allows opportunities to socialise
We want to make this very clear; we are NOT 'promoting obesity'. We all come in different shapes and sizes, depending on our individuality and background. This is why we, as dietitians, focus on the bigger picture, which is HEALTH, based on the INDIVIDUAL, Not singularly determined by a person's size.
Now let's step down from our high-horse and SUPPORT and ENCOURAGE one another to be healthier and happier versions of ourselves.
Your bodies are your vehicles, they are AMAZING.LOVE them and treat them with the respect that they deserve. Get them moving in a way that is FUN and makes you feel INSPIRED.
Who else feels empowered and accomplished when they wear active wear?
NOW put on your best workout gear, grab your best workout buddy and move that amazing body of yours!
If you're looking for motivation and inspiration to eat well and get moving, give us a call! We have included MOVEMENT in our 50 for 5 program, because we know how beneficial it is to reach your GOALS.
PS- you bloody ripper, Nike!